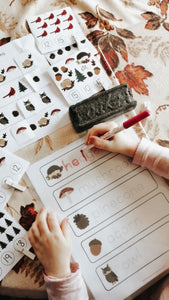 Customer Reviews
Alphabet Dry Erase Board
Incredible! My oldest loves using his dry erase board to practice printing his alphabet, 10/10!
01/07/2022
ocean p.

Canada
Alphabet dry erase board
great quality & concept ! nice prep for school
09/02/2021
Katie S.

Canada
Best kids fry erase board
This is great for my son working on his letters. He loves it & keeps him busy! He does so well and it is such a nice idea vs a paper copy!
08/03/2021
Chantell V.

Canada
My son loves his!
Amazing quality! My son absolutely loves his and it makes learning fun.
07/31/2021
Dani

Canada
Teacher/Mom Approved!
I purchased two of these boards for our family and they arrived safely in less than a week! Quick, friendly service and a high quality product! My daughters are going into SK and grade 1 and these are such great boards to practice their letters and as a tool to talk about upper/lowercase letters when writing their names and stories. Both girls did the whole alphabet when they opened the package, and then erased and did it again and again before writing words around the outside of the board. It's a perfect activity to reinforce proper letter formation, to take outside with us for cool down time in the shade, or to make "quiet time" more educational while watching Netflix. I love how easy to use they are and how well they wipe down, but the marker doesn't smudge on my leftie's hand! Such a great product from a gorgeous shop!